Leveling Up Cards
Cards gain XP (experience points) by being used in matches and can earn extra XP in these games for good performance (goals, assists, blocks, etc.). In the future, users will be able to put a card in training via staking to gain additional XP. Leveling a player card also adds an additional 1% bonus to hard stats per level.
All regular foil cards start on Level 1 and can be leveled up to the limit of unlocked levels, determined by 'Combine Stars' (the number of combined cards, equivalent to BCX in Splinterlands for those familiar with that system). Gold Foil cards will start on Level 10 (Combine Star 2). The maximum level of all cards is 100. Higher levels will require progressively more XP.
**Note: Leveling XP requirements and XP earnings for each level are still being finalized. Further details will be shared in future posts on the GLG Hive Blog.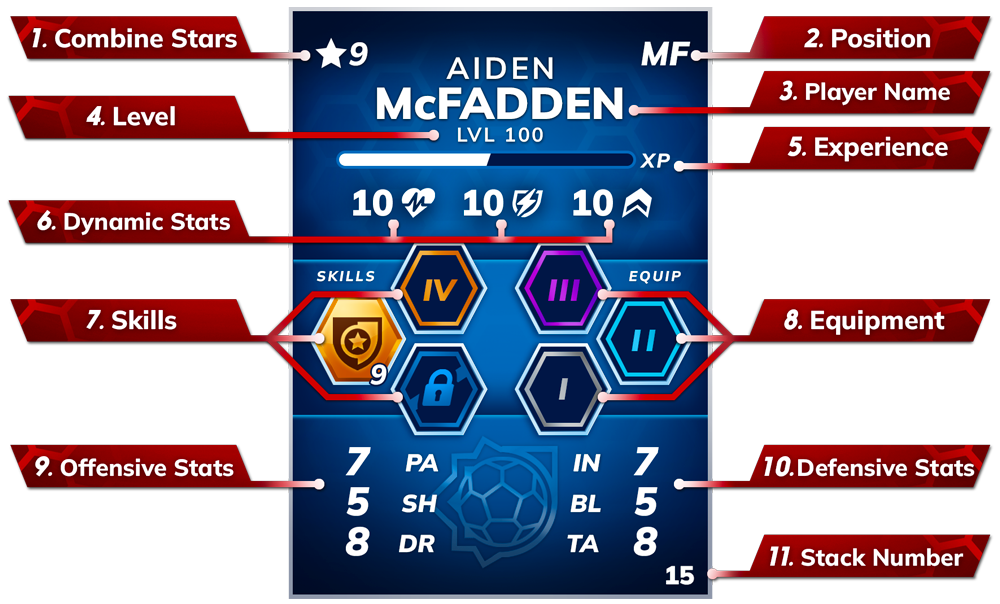 Combining Cards
By combining cards, players can unlock new Skill Slots and increase their level cap, allowing them to earn more XP per match. When combining cards, all cards except the main card are burned, with that main card then increasing its Combine Stars. Cards can be combined up to a maximum of 10 Combine Stars; for each Star Level, there is a minimum XP Level requirement that must be met in order to proceed to the next Star Level.
The charts below outline the minimum level requirements to unlock skill slots and upgrade rarities to use in these slots, as well as showing the XP Level minimums per Card Level. More detailed info can be found in this article on
Card Leveling & Combining.
Regular Foil Cards
Gold Foil Cards
If you have any additional questions or comments, please reach out to GLG Support.